Whisky is among the most beloved alcoholic beverages in the world. Whether you like to have it neat, on the rocks, or in the form of a cocktail, having some delectable snacks to munch on along with it can enhance your overall drinking experience. In Western countries, people usually have it with foods with a subtle taste, like cheese or nuts. But for us, these can never fully satisfy our snack cravings. We prefer something masaledaar and fun to pair with our glass of whisky. If you're looking for snack ideas to pair with your next drink, you're at the right place. Here are some desi Indian snacks that taste amazing with whisky.
Here Are 5 Desi Indian Snacks You Can Pair With Whisky:
1. Chicken Kebab
Soft and juicy on the inside and crispy on the outside, chicken kebabs make for a stellar snack to pair with your glass of whisky. Skip ordering them from outside and make this easy homemade version in under 30 minutes. Pair with spicy pudina chutney and onions on the side. Click here for the recipe for Chicken Kebab.
Also Read: Weekend Special: 6 Foods That Are Best Served With Beer
2. Achaari Paneer Tikka
Paneer tikka undoubtedly tops the list of the most-loved snacks among vegetarians. It's time to give regular paneer tikka an achaari twist with this easy recipe. The spicy taste of the paneer tikka complements the flavours of the whisky really well. Once you try it out, you won't be able to stop at just one. Click here for the complete recipe for Achaari Paneer Tikka.
3. Dahi Kebab
Dahi kebabs can be enjoyed not only with a cup of tea but also with whiskey. Known for their melt-in-the-mouth texture, they can help elevate your drinking experience with their incredible taste. All you need are a few basic ingredients, and you'll have a lip-smacking kebab ready in minutes to relish with your whisky. Find the complete recipe for dahi kebab here.
Also Read: Wine And Dine: What Are The Best Foods To Pair With Your Wine
4. Masala Papad
Papad is a staple accompaniment in Indian cuisine. Not only this but it can also be enjoyed in the form of delectable snacks like this masala papad. To make it, just top the papad with some chopped onions, tomatoes, coriander leaves, and a dash of lemon juice. And there you have it – a perfect desi snack to pair with your whisky. Find the complete recipe for Masala Papad here.
5. Kurkure Aloo
Aloo balls coated in spicy masala and deep-fried until golden brown and crispy – this kurkure aloo will become your new favourite aloo-based snack. It not only tastes incredibly delicious but is also quite easy to make. Enjoy the unique aloo with friends over a glass of whisky. Click here for the complete recipe for Kurkure Aloo.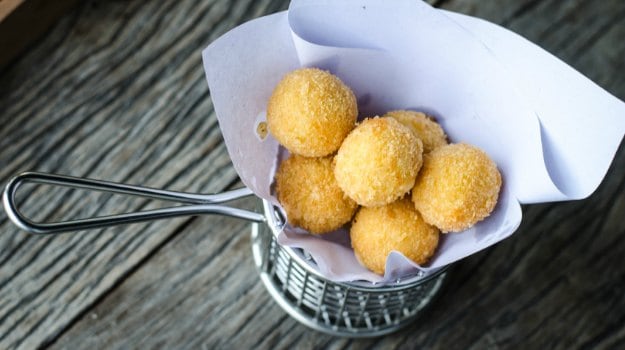 What is your favourite snack to pair with whisky? Tell us in the comments below!